In the previous lesson we looked at an alternate picking lick that was in the style of Paul Gilbert. In this guitar lesson we're going to look at another "Gilbertism" that involves playing triad arpeggios using string skipping.
Before we look at the lick, it's probably a good idea if we quickly look at the two triad fingerings that the lick is based around…
E Minor Triad:

E G B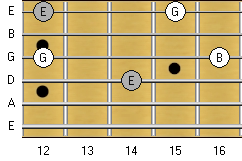 G Major Triad:

G B D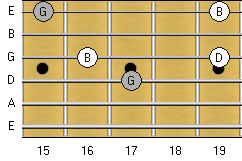 Notice how each triad arpeggio fingering is laid out in the following way…
One arpeggio note is on the D-string.
Two arpeggio notes are on the G-string.
There are no arpeggio notes on the B-string. (It is being skipped).
Two arpeggio notes are on the thin E-string.
This might not sound like a big deal, but this way of fingering the notes of the arpeggio is extremely useful. There are many cool musical ideas that can be played using these fingerings. So I recommend memorizing the arpeggio fingerings now and, over time, make sure that you invest a lot of time experimenting with them. It will be time well spent. 🙂
OK, now that we've touched on the arpeggio fingerings, let's now take a look at the lick…
Rock Guitar Lick 9:

String Skipping Triads

Like some of the previous licks, this one is comprised of notes from the E Natural Minor scale. If you look closely at the lick you'll notice that the following…
The first half of the lick almost entirely sticks to the notes of the E Minor triad that we looked at earlier. Although, just for fun, I have snuck an F# note in there because I like how it sounds.
The second half of the lick focuses on using notes from the G Major triad fingering. You might be wondering about the very last note of the lick. No, it's not a typo. I decided to move that note (D) to the 15th fret on the B-string, rather than playing it at the 19th fret on the G-string. The only reason why I did this is that it just felt more comfortable playing it that way. Hey, it's my lick, and I'm allowed to do that! 🙂
If you're new to string skipping, then be sure that you pay extra special attention to your muting technique. Using a combination of left-hand and right-hand muting will help you to avoid having unwanted string noise ruining your otherwise pristine lick.
Have fun!
Return To: Rock Guitar Licks