Welcome to the fourth lesson of the Rock Licks Booster course. Hope all your practice has been going well! 🙂
In this guitar lesson we're going to look at a tapping idea that I'm pretty sure I ripped-off borrowed from the insanely-good guitarist Greg Howe. (Thanks Greg!). I'm not exactly sure if it's one of his actual licks, but it definitely uses a tapping pattern that I've seen him do.
Let's jump right in by looking at the lick…
Rock Guitar Lick 4:

Scalar Tapping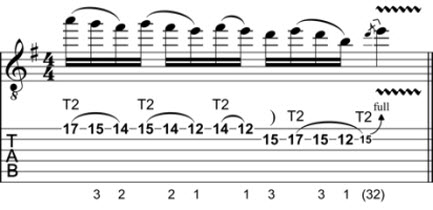 Like the previous two licks, this lick uses the E Natural Minor scale. Before you start practising the lick, here are a few important things that we need to quickly talk about…
None of the notes of the lick are picked. The entire lick is played using hammer-ons, pull-offs, tapped notes, and one solitary bent note.
Tapped notes are represented by T2. There are five notes in the lick that are played using tapping. Because I prefer to tap them using the second finger of my picking-hand, I have used the symbol T2 in the TAB. But keep in mind that you don't have to use your second finger. Feel free to use any finger that you want to. 🙂
Watch out for the bent tapped note. The very last note of the lick is played by tapping the 15th fret note and then bending up a whole-step using the fretting-hand. If you look at the TAB, you'll notice that I have written (32) underneath the last note. This means that I am using my third and second fingers of my fretting-hand to perform the bend. The way I do it is to have my third finger at the 14th fret, and my second finger at the 13th fret. Be sure to watch the video below, because that way you can see exactly how I do it.
The vibrato is optional. I have added some vibrato to the bent tapped note. If you're new to tapping, or vibrato, then you might want to leave this out. But if you do want to do it, then make sure that your fretting-hand does the vibrato. The finger doing the tapping doesn't do the vibrato. All it needs to do is remain firming pressing down on the 15th fret note.
Have fun!
Return To: Rock Guitar Licks